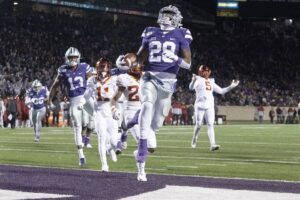 Spring football ended Saturday for Kansas State with their final practice open to the public. K-State has some key newcomers and returners that will need to step in and produce right away if they are to get enough wins to become bowl eligible this fall. They are losing a lot of production, especially at the tight end position and on the defensive side of the ball, which will need to be replaced.
Here are five players you may not have heard much about that are creating some buzz around the program. Chris Klieman and company hope these guys can step in and replace lost production and help the team improve on their four wins in 2020. Keep an eye on these five players heading into the fall.
Jacardia Wright, Sophomore Running Back
The first time I remember seeing Jacardia Wright was when he had 59 yards on 14 carries against Bowling Green in 2019. I mentioned in a post-game blog post how impressed I was with him. For some reason, he was used sparingly last season and every time the running game struggled I would ask a friend of mine why Jacardia Wright wasn't playing. It looks like he is finally catching on and getting some kudos from the coaching staff. Klieman mentioned Monday that Wright had an "exceptional spring." If Wright carries that into the fall, it will help replace the production of Harry Trotter, who was second on the team in rushing yards in 2020 and declared for the NFL draft after the season. Wright and Deuce Vaughn have the potential to be a great one-two punch in the backfield. Wright is more of a prototypical NFL running back based on his size, while Vaughn is a smaller, shiftier back built like Darren Sproles.
Daniel Imatorbhebhe, Senior Tight End
Imatorbhebhe is a transfer from Illinois with one year of eligibility remaining. He'll have a tall task replacing the production of Tight End Briley Moore, who was second on the team in receiving yards in 2020. Imatorbhebhe was impressive in the spring, with Klieman commenting "Daniel Imatorbhebhe is one of the most special talented kids I've seen. What a wonderful kid to be around. He's made our team better because of his work ethic, and always having a smile on his face, and being engaging with the younger tight ends with the younger quarterbacks, as well as the older guys. He's the guy that's going to have a huge impact as well." Get ready to watch a pretty talented kid. Just make sure you pronounce his last name correctly! (ee-MAT-or-bay-bay)
Timmy Horne, Senior Defensive Tackle
Drew Wiley was an anchor on the Wildcats' defensive line in 2020 and declared for the NFL draft following the season. He was second on the team with 4.5 sacks and was an honorable mention All-Big 12 selection. Klieman hopes he's found a viable replacement in Charlotte defensive tackle transfer Timmy Horne. In Klieman's post-spring press conference, he said "Timmy Horne is going to be an impactful guy." Horne is a huge man at 6'4″ and 319 pounds. I have a feeling we'll hear his name a lot this fall.
Felix Anudike, Sophomore Defensive End
One of the biggest questions for the Wildcats this fall is who is going to replace Wyatt Hubert and his production at defensive end? Three defensive ends that Klieman spoke highly of during the spring were Felix Anudike, Brendan Mott, and Spencer Trussell. Klieman commented "Felix Anudike
is probably the biggest surprise for me. I know how strong he is. He just needs to continue to have the game slowed down for him mentally, but he plays with a tremendous motor and does a really, really nice job for us." Anudike was
one of nine true freshmen on the Wildcats to see time in 2020 as he played in five games. He had three tackles and a sack on the year. Look for him to see the field a lot more this fall and have an impact at the defensive end position.
Daniel Green, Junior Linebacker
K-State lost their second-leading tackler when linebacker Justin Hughes declared for the NFL draft following the 2020 season. The most likely player to pick up that production is junior Daniel Green. Green did play in all 10 games last season, but he's going to have a much bigger role on the defense this fall.
Klieman says Green took off and had a "phenomenal" spring at linebacker. That's a word that doesn't get thrown around much when evaluating players.
If these five players have an impact in 2021, look for Kansas State to have a successful bowl-eligible season.