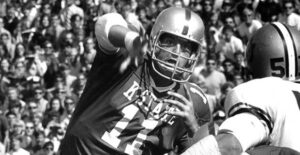 Lynn Dickey is the first player in my series of K-State football Ring of Honor members. I became a fan of Lynn Dickey long before I was ever a fan of K-State. I grew up in Wisconsin a huge Green Bay Packer fan and Dickey was my favorite quarterback. He led a proficient Packer offense, throwing the ball to John Jefferson, James Lofton, and Paul Coffman, another K-State great. These guys were my Patrick Mahomes, Tyreek Hill, Sammy Watkins, and Travis Kelce. I was 10 years old at the time, but still vividly remember those Packer teams. When I decided to attend Kansas State, I heard stories of Lynn Dickey, but it mostly got muddled into the "K-State had the worst football program of all-time" talk in the early 90s. When researching Dickey's accomplishments while at K-State, I was surprised to learn that he quarterbacked some pretty good teams and that K-State was contending for Big 8 championships against Nebraska and Oklahoma. I enjoyed researching and reading articles from a long time ago in learning some more about K-State great Lynn Dickey.
"Born in Paola, Kansas, and raised in Osawatomie, Kansas, southwest of Kansas City, Dickey led Osawatomie High School to a state championship and graduated in 1967. It's football stadium is named after him, and his number "10" was retired by the school in January 1971."…Lawrence Journal-World, January 28, 1971
JM: Lynn Dickey was born and bred in Kansas, attended Kansas State, and still resides in the Kansas City area. If there is a list of the greatest Kansas athletes of all-time, I'm sure he's on it.

"Dickey was recruited by Kansas State University in 1967, and he soon became the top quarterback in the Big Eight Conference. Following his senior season in 1970, Dickey finished 10th in the voting for the Heisman Trophy and was named MVP of the East-West Shrine Game. His 6,208 career passing yards stood as a record at Kansas State for 38 years, until it was passed by Josh Freeman in 2008."…www.fampeople.com, May 20, 2019.
JM: Dickey held the all-time passing record at K-State for 38 years, which is quite a feat considering most football teams focused on the running game during the time that he played.
"Maybe Kansas State really does have a "super, super, super, super" quarterback, which is the way Coach Vince Gibson modestly describes Lynn Dickey, the lad who made big sport of Oklahoma last week."…Sports Illustrated, November 3, 1969
JM: Wow, four "supers!" I guess it was deserved after the way Dickey dismantled the Oklahoma defense….

"Lynn Dickey got to them, all right. A junior who wears white shoes because Joe Namath does, Dickey scattered passing records all over Manhattan as he hurled 28 completions for 380 yards and three touchdowns. He got the Wildcats on top quickly by 14-0. When the Sooners closed it to 14-7 on a long pass by Jack Mildren, Dickey came back throwing to make it 21-7. Another Mildren bomb made it 21-14, but Oklahoma never got closer. Before the half was over, Dickey had again driven Kansas State to a two-touchdown lead, and by the third quarter K State held a delirious 49-14 margin."…Sports Illustrated, November 3, 1969
JM: K-State beat Oklahoma 59-21 and Sports Illustrated was so impressed that they wrote an article praising Dickey and the Kansas State football team. It was a big deal back then to make enough waves in the sports world to be featured in Sports Illustrated. It's akin to being one of the the top stories leading off SportsCenter today.
"In the press box that day for The Associated Press was Lew Ferguson, who later became the AP's political writer in Topeka. 'Lynn Dickey just obliterated them," recalled Ferguson. 'In those years, Oklahoma didn't practice enough against great passers because they didn't see that many. I had the feeling they didn't prepare like they should have for Dickey."'….www.newson6.com, October 6, 2000
JM: This was a monstrous win for Kansas State in 1969. Look at what Oklahoma had done to K-State in the 34 years prior to this game….

"Oklahoma actually came into the game a slight favorite. And why not? The Sooners were just two years removed from an Orange Bowl victory over Tennessee. And from 1935 through 1968, Oklahoma had gone 33-0-1 against the team they insultingly called "the Mildcats.' For four straight years, beginning in 1948, Kansas State had not even scored against Oklahoma. Between 1948 and 1963, they never scored more than one touchdown in any game against the Sooners." ….www.newson6.com, October 6, 2000
JM: I'll bet there was quite a party in Aggieville after this one. Beating number 18 Oklahoma on this day should probably be considered one of the best wins in K-State football history. Unfortunately, K-State lost its last four games by an average margin of seven points to finish 5-5 on the season.

"For Kansas State, its first conference title since 1934 required a win in Lincoln on an Arctic-like November day. The Wildcats were 5-1 in league play (6-3 overall) entering their final Big Eight game. Nebraska was undefeated but had Oklahoma up next."…Omaha World-Herald, November 15, 2020
JM: K-State competed for the Big 8 championship during Dickey's senior year, but a trip to Lincoln derailed that effort….

"They'd played the Huskers tough while Vince Gibson had been in Manhattan — NU needed a field goal to win 16-14 in 1967, KSU upset and shut out the Huskers in 1968 and NU eked out a 10-7 win in 1969 with Kansas State on the NU 6 at game's end."…Omaha World-Herald, November 15, 2020
JM: Were you aware that K-State football competed closely with Nebraska and Oklahoma in the late 1960s and early 1970s? I knew K-State won a few games back then, but a lot of the losses were pretty close as well.

"Friday the 13th came a day late for Kansas State. The Wildcats saw nearly everything they tried turn to disaster in the second half, and Nebraska walked away with a 51-13 win that clinched at least tie for the Big Eight championship for the Cornhuskers."…Omaha World-Herald, November 15, 2020
JM: This game, however, was NOT close. This was probably Dickey's worst game as a Wildcat…

"The defeat was the worst for the Wildcats in Vince Gibson's four years as head coach. Lynn Dickey, trying to finish out his Big Eight career in a blaze of glory, had one of those days you wouldn't believe in your wildest nightmares. The Osawatomie senior completed 22 of 47 for 255 yards but had seven of his passes intercepted. Four of those interceptions were turned into Nebraska scores … Little more than half of the big crowd of 67,894 was still on hand for the anti-climatic finish. The wind chill index was listed at three degrees above zero, but it must have seemed colder than that for the 5,000 K-Staters in Memorial Stadium."…Omaha World-Herald, November 15, 2020
JM: I wonder how K-State social media and message boards would react today if Skylar Thompson had seven interceptions in a game. In fairness, the weather was very chilly, probably making it difficult to pass the ball. I also found it interesting that 5,000 K-State fans made the trek to Lincoln for this one.

"K-State finished a 6-5 season with a 31-7 loss the following week at Florida State. The Wildcats wouldn't defeat NU again until 1998."..Omaha World-Herald, November 15, 2020
JM: Lynn Dickey and the Wildcats' 12-0 victory against Nebraska in 1968 made Dickey the last K-State quarterback to beat Nebraska until Michael Bishop led the team to victory in 1998.

"Dickey was chosen as the first-team quarterback on the all-time Big Eight football team in 1995 and is a charter member of the K-State Sports Hall of Fame (1990). In 1996, when the Big Eight expanded to the Big 12 Conference, the Associated Press named Dickey as the All-Time Big Eight Quarterback. He was inducted into the State of Kansas Sports Hall of Fame in 1997."…Kstatesports.com
JM: Being voted the best quarterback in Big 8 history is quite an accomplishment.

"The third round saw future NFL stars Lynn Dickey (56th overall, to those very same Oilers) and Kenny Anderson (67th to Cincinnati) enter the league."…Sports Illustrated, April 21, 2016
JM: The Houston Oilers selected two quarterbacks in the 1971 NFL draft, making Dickey the backup to first round pick Dan Pastorini. Dickey did start some games for the Oilers, but suffered some injuries and was traded to the Packers in 1976.
"Dickey's ills this year began when he got a headache on the Thursday before Green Bay's opener against Houston. No problem. Pain is Dickey's constant companion, the lapdog given to him at the start of his pro career. Without doubt, Dickey has been spindled, torn, battered, injected, cut, sutured, rehabbed, written off and resurrected more times than any other man still playing the game. His injuries have left him with a reputation as one tough hombre, a genuine stoic, a man who would battle Godzilla—and win—to stay at the job he loves."…Sports Illustrated, September 26, 1983
JM: Dickey had a reputation in the NFL for being oft-injured, but also had a reputation as one of the toughest guys in the game…
"In the training room now, if a player comes in and has an injury we can't do anything about, we call it an L.D., a Lynn Dickey."…Sports Illustrated, September 26, 1983
JM: They even named injuries after him!

"Dickey led the Packers to the playoffs in the strike-shortened 1982 season. The Packers won the opening round after Dickey went 19 of 26 (73%) for 286 yards with 4 touchdowns and no interceptions in a 41-16 triumph over the St. Louis Cardinals. Green Bay was eliminated the following week by the Dallas Cowboys in the divisional round after Dickey went 24 of 37 for 274 yards with 1 touchdown and 3 interceptions as the team fell 37-26."…www.fampeople.com, May 20, 2019
JM: I remember being very excited that the Packers made the playoffs in 1982. I was even more excited they beat the Cardinals in the first round and were going to play the Dallas Cowboys. We were traveling for an extended family Christmas the day of the Packer/Cowboy game and I remember listening to the game on the radio in the car. We stopped at a restaurant or a sports bar for lunch and caught some of the game on the television there. I hated the Cowboys and I thought the Packers were going to win. Unfortunately, it was not to be.
"His (Green Bay Packer) record for most passing yards in a regular season game (418 versus Tampa Bay on October 12, 1980) was broken by Matt Flynn on Jan. 1, 2012 with 480 yards."…www.fampeople.com, May 20, 2019
JM: Not too bad holding that record for 22 years considering Brett Favre played during that period.

"Dickey was an All-Pro selection in 1983. He passed for a team-record 4,458 yards and 32 touchdowns. His single season passing record was broken by Aaron Rogers in 2011."…www.republic-online.com, July 5, 2019
JM: Lynn Dickey is still second on the Packers single season passing list.
To review, let's go down the checklist of Lynn Dickey's accomplishments:
-High school state championship
-High school stadium named after him
-High school retired his number 10
-Finished 10th in the Heisman voting while at Kansas State
-MVP of the North/South Shrine Game
-Member of the Kansas State football Ring of Honor
-Member of the Kansas Sports Hall of Fame
-Member of the Green Bay Packers Hall of Fame
That's quite the career. Lynn Dickey is very deserving of all of these accolades. I'm glad he was born and raised in Kansas and remains in Kansas. We can all be proud of the way he has represented K-State over the years.
Hope you enjoyed reading about Lynn Dickey. Up next I'm going to look at the career of Steve Grogan.
Till next time…