I decided to have some people over tonight to watch the K-State/TCU game. I also decided to cook a pork butt and have pulled pork as the main dish for dinner. I bought an eight pound Boston pork butt at Price Chopper since they had them on sale for about 15 bucks.
I got up around 7:00 AM to prep it. I trimmed some fat off of it and coated it with Orville Redenbacher's butter flavored oil and "The Squeal" Hog Rub that I like. The oil helps the rub stick to the meat. You can use olive oil if you want, but I didn't have any on hand and the Orville Redenbacher's works just as well.
Here is the rub that I use. I think it's great.
Here is the pork butt after I prepped it…
I don't coat it as much as others like to do. I like the taste of the meat.
I started the smoker and got the temperature to 225 degrees and put it on the smoker around 7:30 AM. Here is the butt after I put it on the smoker…
And here it is five hours into the cook…
This piece of meat took a lot longer to get to temperature than I thought it would. I pulled it off at 196 degrees at around 8:00 PM. Normally I would have let it get to at least 200 degrees or maybe even 205 degrees to make pulling it easier. Since I had company on this day, I pulled it right after I took it off the smoker. Here is the finished product….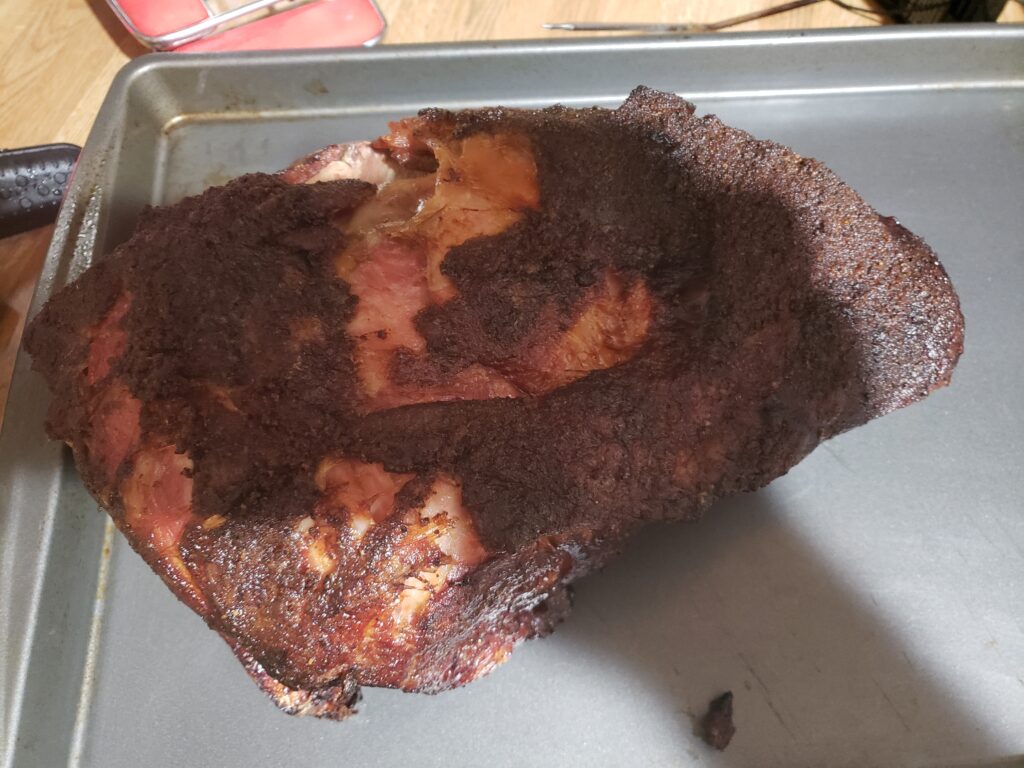 Here it is after I pulled it into pieces…
Even though I pulled the pork butt off at 196 degrees, it was fairly easy to pull apart and it was still tender, juicy, and flavorful. I was happy with it and my company liked it.
Hope this helps you if you ever want to smoke a pork butt on your Traeger!