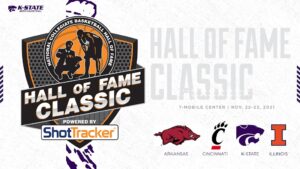 "Arkansas, Cincinnati, Illinois and Kansas State – four men's basketball programs that have combined to win three NCAA titles and reach 21 Final Fours – will compete at the 2021 Hall of Fame Classic Powered by ShotTracker Nov. 22-23 at T-Mobile Center in Kansas City, Mo."…www.halloffameweekend.com, April 21, 2021
JM: The College Basketball Hall of Fame made the announcement official today. I really like this lineup. Two really good programs in Arkansas and Illinois, Cincinnati breaking in a new head coach and K-State. I'll be there to watch.
"Weber said he will specifically request for K-State to open against Arkansas or Cincinnati."…Kellis Robinett, Wichita Eagle, April 21, 2021
JM: What? This was a random sentence in Robinett's write-up about the Hall of Fame Classic. He didn't explain why Weber would specifically ask not to play Illinois. Is he afraid of playing them? Does he not want to play them because he used to coach there? This strikes me as a very bizarre request.
"I am 102% committed to Kansas State University."…Colby McCalister, Twitter, April 18
JM: K-State's newest 2022 football commitment is a three-star cornerback from Friendswood, Texas. I'm glad he's 102% committed and not just 100% committed. That makes me feel a lot better!

"He's definitely an upgrade to our forward spot, especially on the offensive end." K-State assistant coach Shane Southwell, April 20, 2021
JM: Southwell spoke glowingly of incoming basketball transfer Ismael Massoud. The 6'8″ forward is a fifth-year senior from Wake Forest. He played in all 22 games, averaging 8.3 points and 3.4 rebounds per game.
"We were undersized because of COVID and just in general, so I had to play a lot at the five last season. It definitely made me a better player, being down there and playing against bigger guys. It made me stronger, too, but I'm looking forward to moving back to the perimeter."…Ismail Massoud, April 20, 2021
JM: Massoud is more comfortable on the perimeter than banging with the big guys down low. He had eight three-pointers and 31 points in a game against Pitt last season and he also scored 17 in a game against Duke. It'll be interesting to see how he fits in with Bruce Weber's Wildcats this fall.
———————————————————————————————————-
Check out my "Seven questions I'd like to ask Bill Snyder" that was posted earlier today. What questions would you ask Bill Snyder if you had the opportunity?
Thank you for reading and supporting my blog. I appreciate all the feedback. This summer I'm going to do a series about all of the members of the football ring of honor. Should be fun.
Till next time..